I went to meet up with a friend, S today who just recently returned from Uganda for her Fellowship and of course, we went shopping! We first went into one of my favorite stores, Club Monaco but we left empty-handed as even with markdowns the frugalista in me wasn't keen on paying the prices.
So, next up was H&M. I haven't been shopping in H&M for a while since I have been indulging in ZARA for quite a fair bit. I did pop by the store yesterday and saw a couple of cute stuff but didn't try anything on. I have to say that was a smart move for today, when I went in with my friend and tried the stuff that I spotted yest, it was a GONER! I left with a piece of garment and another piece on hold at another store as the one they had had a little snag on it. Pfft.
The items that I tried on were the jacquard strapless dress with a sweetheart neckline and a Chanel-esque tweed-like jacket which S mentioned is so Jackie-O. Heh. I bought the dress and will head to the other H&M in town to pick up the jacket tomorrow.
Jacquard Strapless Dress with Sweetheart neckline
Black & white Chanel-esque jacket
What do you think? I am thinking of wearing the dress for my brother's wedding at the end of the year. I will pair the dress with accessories and post that to garner your feedback.
On a different note, here's what I wore today: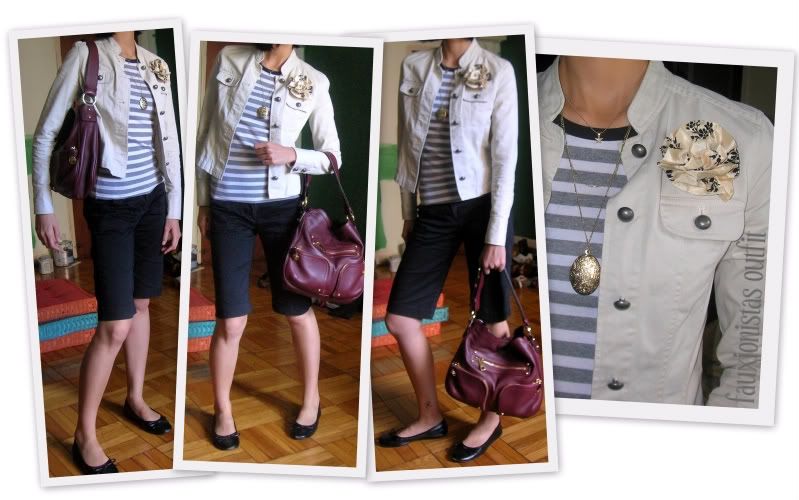 Top: GAP
Jacket: Calvin Klein
(outlet find!)
Shorts: The Limited
(TJ Maxx find!)
Shoes: Banana Republic
(Ebay find!)
Bag: Marc Jacobs Christy in Bordeaux
Necklace: Forever 21 and white gold necklace with star pendant
Pin: Handmade with some help from a friend
(a costume designer!)
I have to say that I am disappointed though as my necklace broke. Boo! I was sitting and waiting at the Dept of Motor Vehicle to renew my driver's license before meeting up with S and have absolutely no clue how my necklace broke except it did! Thankfully I found the locket in my bag. I guess I will wear the broken chain as a bracelet instead and try and find a long chain to go with the locket. Boohoo! The lovely necklace was a gift from K, a super kind friend who indulges me with random gifts.