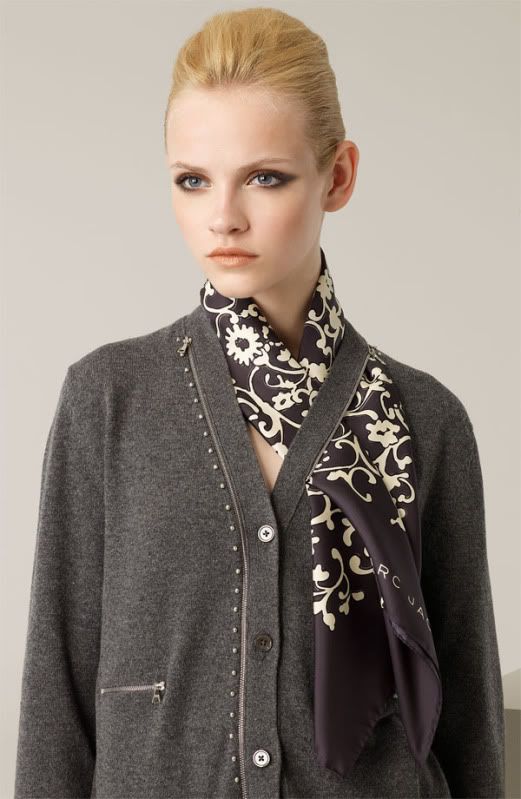 These Marc Jacobs scarves are from the Fall/Winter 2009 collection that hit the stores in July last year. The fun colors and the bold cartoon paisley print, in my opinion would be a great 'pop' to any outfit. Alas, at $150 a piece for these 100% silk scarves, I just could not justify the price for it.
Being the penny pincher and bargainista that I am, I awaited for promotions and sales to hit. The first to hit was the Saks Fifth Friends & Family event where the scarves were marked down for 25% off. Yet, I decided to wait and much later on Barney's New York began their first markdowns and the scarf was marked down to $99. Aha! Could the price be right? I pondered and contemplated about it but decided against purchasing it as I was going back to mother land for vacation and knew that I would be spending moolah if not already (return air ticket and unpaid leave hurts the bank)! I even asked the sales associate if she knew when the next markdown would be, and she had no clue but gave a vague timeline in about 3 weeks. And so, I took my chances.
Finally, the scarves are marked down further at Barney's yesterday and lo and behold there is something coming in the mail for me! WOOHOO! My patience is paying off and I am keeping my fingers and toes crossed that it will come soon in the mail! Meanwhile, this would set me back a little for my camera funds as I am camera-less now. I left my camera back in motherland for my parents as I was set on purchasing a new one but heh, clearly you can tell what my priorities are!
I know, I know. Without a camera, there would be no pics and this blog would be not quite as fun. Perhaps I will talk myself into pulling the trigger on the camera soon. HAH!
Enough blabbering! Which color did I purchased for the scarf? Can you guess?