Since I have owned this Mini Runway (MK5384) watch for a little over a year, I think it's time to write a review on it. This watch was a Xmas gift from G from 2011. I have had my eye on it for a good couple of months but was waiting for deals before pulling the trigger on it. For the most part, the best deal I could find on it was 20% off (retail is $250) and I decided to wait until after Xmas to purchase it thinking I would be able to get a better deal then. Well, I definitely didn't have to wait till after since G travels to his parents' for Xmas vacation and gave me my gift early. 😉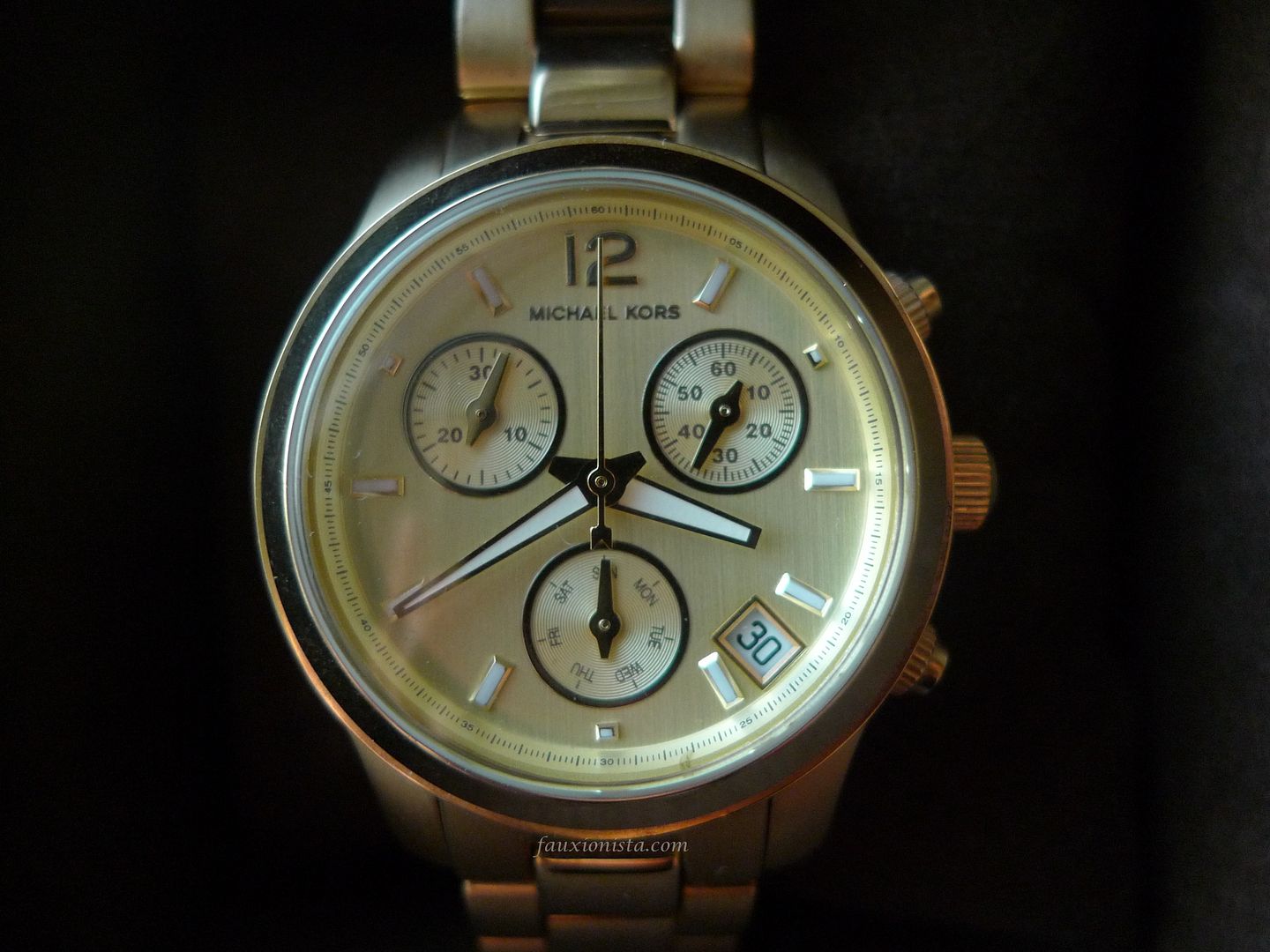 Michael Kors Mini Runway Watch in Gold
I love the chronograph look of the Mini Runway and one of the main reasons that I picked gold over silver and rose gold was to have a watch to match my gold accessories. My only other watch at that time was a silver Swatch, a birthday gift from my high school friends. (Yes, most of my watches are gifts.) For me, the Mini Runway's 33mm diameter was a better fit for my tiny wrist in comparison to the Runway, that has a diameter of 38mm. The watch has substantial weight to it and is pretty well made for the most part. Up till this part, I'd give the watch a 5-stars. However….
As I did not purchase the Mini Runway to be fully utilized as a chronograph watch, I did not use the  functions. I finally tested the functions months later when G played with his chronograph watch (which I bought for him as his birthday gift) and decided to try mine. Lo and behold, the stopwatch does not automatically return to 12 upon reset. (In the pics above, it's at 12 because I carefully hit the stop button for the hand to be at 12) While it isn't a major defect, it is still one nonetheless and I decided to take it back to the store to try and exchange for a new one since it was still under warranty. This is where I experienced anguish with customer service from the sales associates at Michael Kors.
G had bought the Mini Runway watch from the Michael Kors at Tyson's Corner and we explained the defect to the sales associate at the store. Upon realizing that we were trying to get an exchange and not make a purchase, the sales associate didn't seem to keen to help us and just told us that the watch had to be returned to the factory for repairs since it was still under warranty. I was personally miffed with the sales associate's attitude and disappointed that I would have to part with my watch when it was a defect all along. I have never dropped the watch and there's barely any scratches on it as I take pride in taking good care of my belongings. G suggested that we try another Michael Kor's store, and so we did, the store at Tyson's Galleria and it was deja-vu. Worse still, the initial sales associate that we approached just passed us off to another associate because she wasn't keen on helping us for a watch repair issue! With that, we left the store and I felt cheated even though the watch was a gift and I didn't have to pay a dime. Michael Kors' watches aren't exactly chump change and yet after service for their product is non-existent. This means in order to have the issue fixed, I have to mail the watch back to their factory on my own dime and not be able to wear it for some time. This has certainly put me off from wanting more of his watches. In short, while I love the designs of some of the newer watches, I do not foresee myself owning any more of his watches thanks to the lackluster after service.
Does anyone have a similar experience with Michael Kors or perhaps a different brand/retailer? Kindly share.