As mentioned here, I bought a black jacket since the Helmut Lang Era Blazer in my size in Black at Intermix was sold out. The jacket I purchased is the Maison Scotch Black Tweed Jacket. Prior to this, I have never heard the label Maison Scotch before but from what little research I did, they're a Dutch company that apparently has Isabel Marant knock-offs for an affordable price.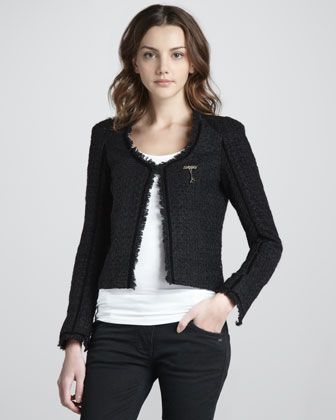 Maison Scotch Black Tweed Jacket
I have always wanted a tweed jacket ala Chanel, which I consider to be a classic staple, much like a black blazer but a little more feminine. I love the Maison Scotch Tweed Jacket in Black because of the cut and the elbow patch, which I think gives the jacket a little bit of character. I found it on sale at Madison LA here and also surprisingly on Amazon here. However, availability of sizes differ at both sites and I took a chance and purchased it from Amazon instead since with Prime membership (thanks, G!) I had free shipping and returns whereas it was final sale at Madison LA.
As I wasn't sure on sizing, I sent an email to Madison LA to inquire about the shoulder width of the garment as they only had size 2 and I purchased size 3 from Amazon. Madison LA emailed me back and told me that as the item had to be transferred from a store for measurement, they would get back to me no later than the next day. When I emailed them to follow up the next day, they were prompt with their response. In case anyone was wondering, size 2 had shoulder width of 14.5″ while it is 15″ for size 3. (Props to Madison LA for their good customer service, btw).
Here's how the jacket looks on me…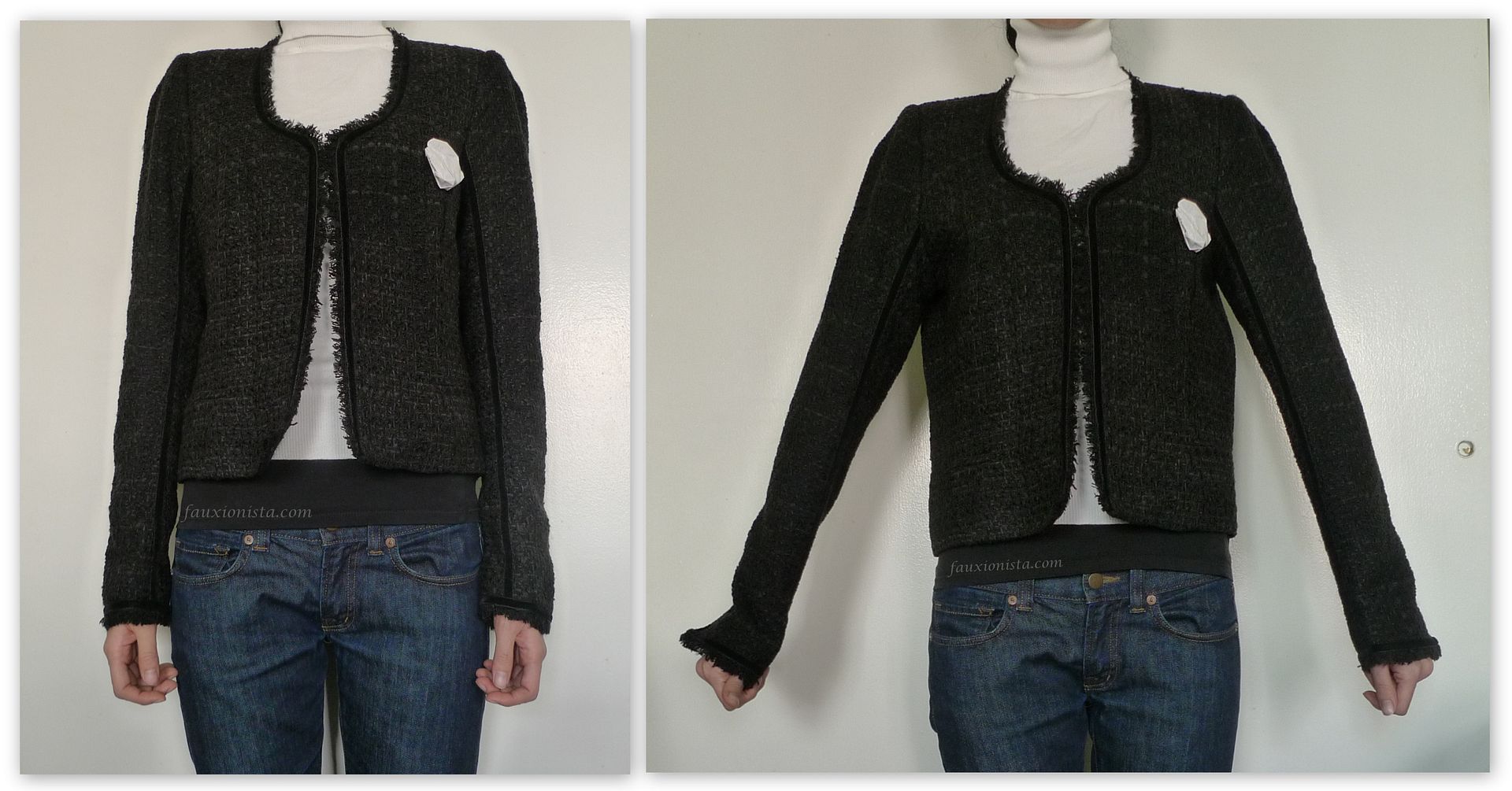 Maison Scotch Black Tweed Jacket as modeled on me
Sadly, as much as I love the jacket, it doesn't fit me well. The size 2 would likely fit me better but jackets and outerwear's shoulder width has to be 15″ for it to fit me without restricting my arm movements. If the jacket was cheaper (say less than $100), I would have considered keeping it and have it tailored to fit me better. I have to say the quality of the jacket is pretty good as it's lined and has substantial weight to it to keep one warm during transitional weather such as Fall or Spring. Alas, it's just not meant to be (for me at that price point) yet I wanted to write a review for it since I couldn't find anything while researching about it!