Source here
My apologies for the lack of posts last week. The events that occurred coupled with other activities in life got the better of me. As such, for this week's Wishing Wednesday, I am wishing for nothing but peace in the wake of the bombings in Boston and Texas. I lived in Boston briefly in the past, so that hit a little close to home. I am also aware of the rape case of a 5 year-old in India, the earthquake that happened in Sichuan, China last week and the countless civil strife that occurs in the Middle East on a regular basis. Yes, people die each day,  from various causes but in my opinion, it's a great tragedy when one chooses to woefully inflict harm and violence upon others with their inhumane actions.
We now live in the 21st century with great technological advances and it saddens me that instead of ushering a new era, a culture of peace, there are a few amongst us who still cling on to a culture of war, as though it's the early 20th century.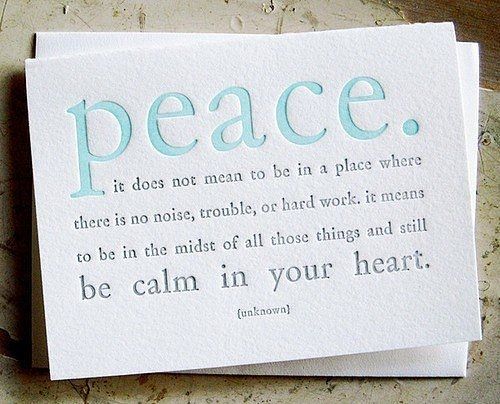 Source here
I find the quote in the image above to be apt. Peace isn't found in a secluded mountain hilltop but truly in the depths of our own lives amidst the curve balls that life throws at us. To be able to make peace with ourselves, to emanate the calmness and serenity from within us and to empower others to do the same is, in my opinion the action that we need to take. Until each one of us are at peace, there will be no shortage of conflicts, wars, and violence. Today, I would like to encourage you to learn more about creating a culture of peace in this world that we live in and let us all win over violence through dialogue.
**Disclaimer: I am not a member of the non-profit organization Creating a Culture of Peace but I am of the same opinion with regards to the values that they extol on non-violence and creating peace in our communities.