Among one of the things that I didn't get to do while on vacation in Paris last Fall was going to Laduree to buy some macarons as treats. I tell myself that it's just another reason to go back for a visit! (hint hint G! ;))
While doing my quick round of news and Twitter feed check this morning, I came across the Uniqlo and Laduree collaboration here. I am surprised to find this unexpected collaboration and wished I found out about it sooner!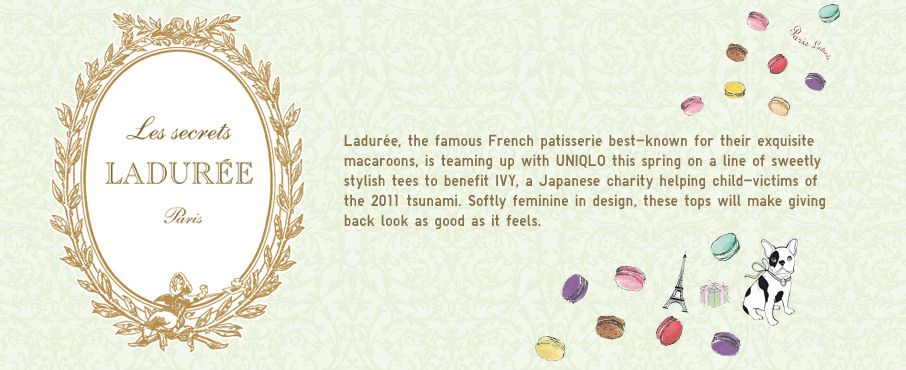 There are 19 different tees for children and women that start range from $12.90 to 19.90. A portion of the sales will benefit IVY, a non-profit that helps children affected by the 2011 tsunami/earthquake. My favorite tees from the collection are as below: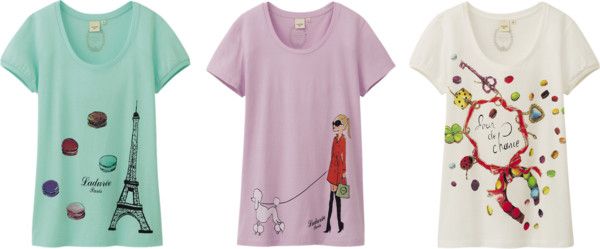 Uniqlo and Laduree Collaboration Women's T-shirts
I really wished I had found out about this collaboration sooner because I absolutely love the first shirt on the left. Alas, it's sold out online and there isn't a Uniqlo here in DC. 🙁 Well, perhaps I'll console myself with some macarons this weekend, even if they aren't from Laduree.
Happy Friday & have a great weekend! 🙂