Smythson Panama Passport Covers £115/$148
It's no secret that I love traveling (our wedding was travel-themed!) and I have been wanting to add a fun passport cover to jazz up my travel necessities. While I previously received a beautiful neutral Mulberry passport cover, I want something bright and fun. Something that would stand out, making it easy to find in my bags.
I have been a tad obsessed with Hermes of late, eager to add some of their beautiful bright accessories to my collection. Their green, bamboo for the Spring/Summer collection is a gorgeous shade of green, that is bright with yellow undertones. While I love Hermes, I'll be quick to admit that most of their prices are not within my beer budget. Moreover, finding an item you want in the color you want albeit it being in season is a crazy goose chase. If you see an Hermes item you like, it's best that you buy it right there and then for chances are you're not likely to be able to find it again at a later date (which doesn't bode very well with my hemming and hawing over purchases). Since I couldn't find what I want, I ventured into Smythson a few doors down that had fun, bright colors for their Panama collection displayed on their window. Well, I'm happy to say that I love the Smythson Panama passport cover that I found in a gorgeous shade of green, similar to Hermes' bamboo. The textured saffiano-like leather also makes it more durable, which would make it great for traveling. I like the yellow too, but I think the green would be better in the long run as I think the lighter shade might be more prone to dirt.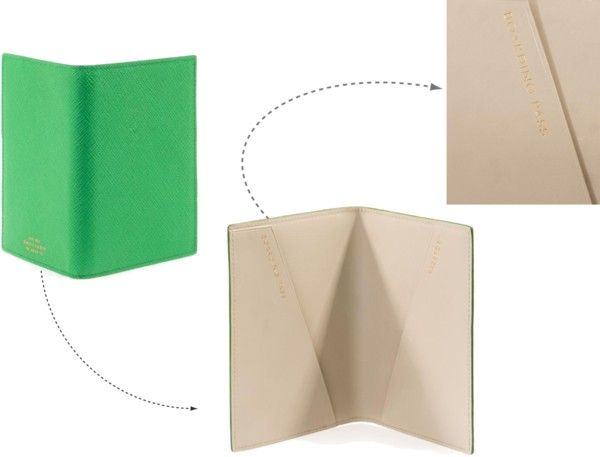 Details of Smythson Panama Passport Cover in Emerald (Boarding Pass on the left, Passport on the right)

I love the discreet branding on bottom of the back cover and the sleeve pockets for a passport and boarding pass. Minimal yet functional, just perfect for me. At £115, it's slightly cheaper than Hermes but unlike Hermes, Smythson goes on sale! 😉 Guess who'll be buying one when sale season arrives? Btw, this would make a great gift for your world traveler bestie. 😉
Do you use any cover for your passport?