ZARA is one of the high street labels that I adore. Along with H&M and Forever 21, ZARA is the place to go to pick up trendy items. However, when it comes to finding the right blazer that would fit, none of these places have anything for me. Why? Simply because I have wide shoulders and a body shaped like a piece of plank. I also normally have to go one or two sizes up for a blazer/jacket to fit my wide shoulders. As such, finding the right blazer or jacket has always been a task for me as whenever the garment fits my shoulders, it would be far too loose elsewhere. In order to find the right fit for a blazer/jacket that would flatter my shape, I usually have to revert to higher end designers i.e. Calvin Klein, Theory and Elie Tahari.
During the recent semi-annual ZARA sale, I decided to try on one of their many blazers on sale even though I was expecting it not to fit since I have tried one too many times. But lo and behold, the blazer that I tried had a great cut and fit on me. It was a basic black blazer in the boyfriend cut so I snagged it on sale for 50% off. Additionally, I found the much coveted Balmain inspired blazer in the store and decided to return the next day to snag one as mentioned here. I have since returned the studded blazer and nabbed a different blazer instead.
I first laid eyes on this knitted gray blazer prior to the sale and was hoping for it to be marked down. Alas, it wasn't but since I really like it and know that it would be versatile to be easily worked into my wardrobe, I bought it full price. Yes, you read that right, for FULL PRICE. I guess that just goes to show how much I like it since I am a scrooge and a bargainista. The much adored blazer is my outfit for today.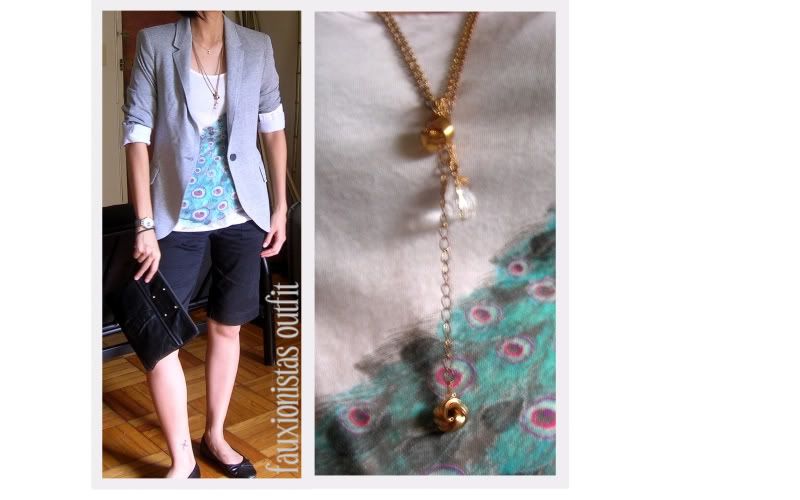 Blazer: ZARA
Top: H&M peacock print top as posted
here
Shorts: The Limited
(from TJ Maxx)
Shoes: Banana Republic
(Ebay find)
Necklace: H&M and white gold chain with a star pendant
Watch: Swatch
Bag: Marc Jacobs Palais Royale flat case