As mentioned in my previous post, I may or may not have bought one or more of the accessories that I posted about!
Well, I purchased both the Kate Spade bow rings, the Love Notes and the Skinny Mini during their recent Friends & Family sale for 30% off retail. (I didn't get a chance to post about it sooner.) I had been eyeing the Love Notes Bow Ring for a while but couldn't quite justify the retail price, thus I was pleased to received an email from Kate Spade notifying me of their F&F sale! I promptly added the item to my cart and decided to add the Skinny Mini Bow Ring as well for comparison and here's how nicely it was packaged when it arrived.
Colorful packaging accompanied by a card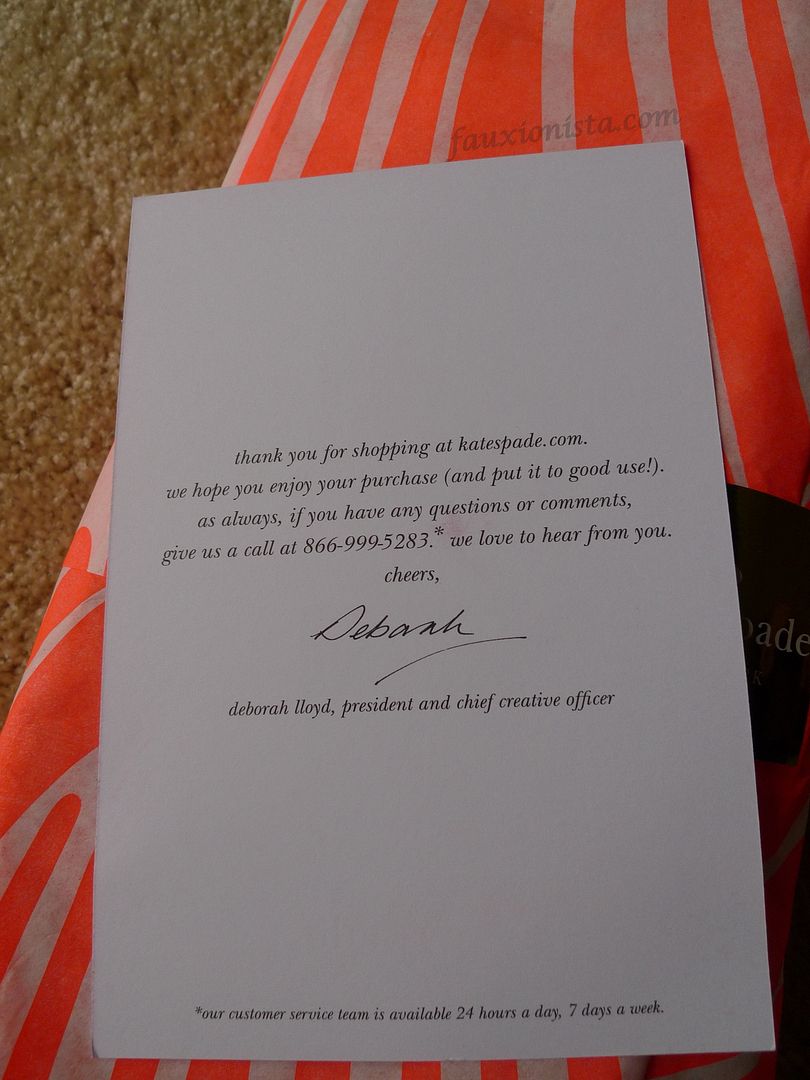 Thank You card from the President & CEO of Kate Spade, Deborah Llyod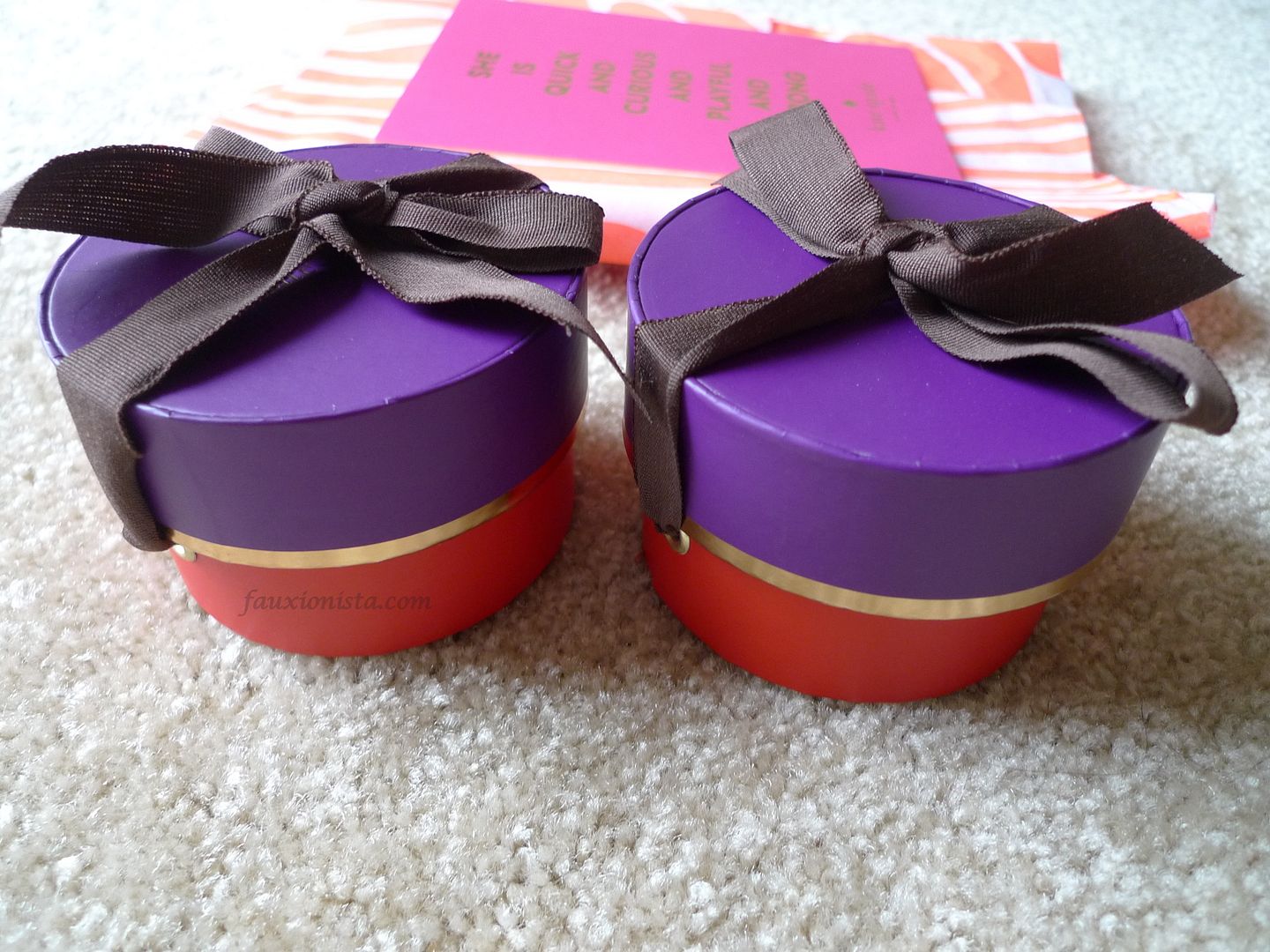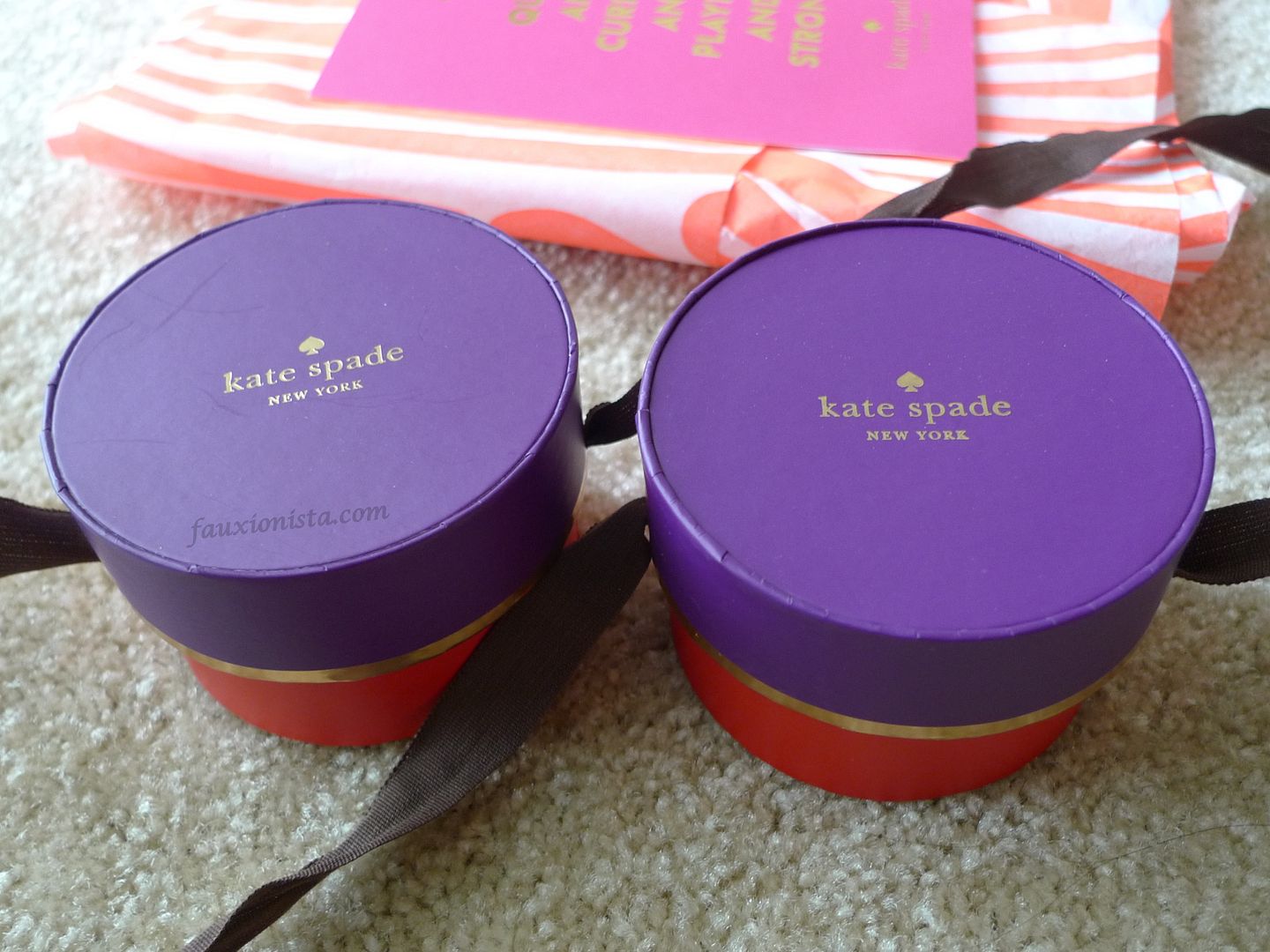 The pretty boxes for the rings
Here are the rings worn…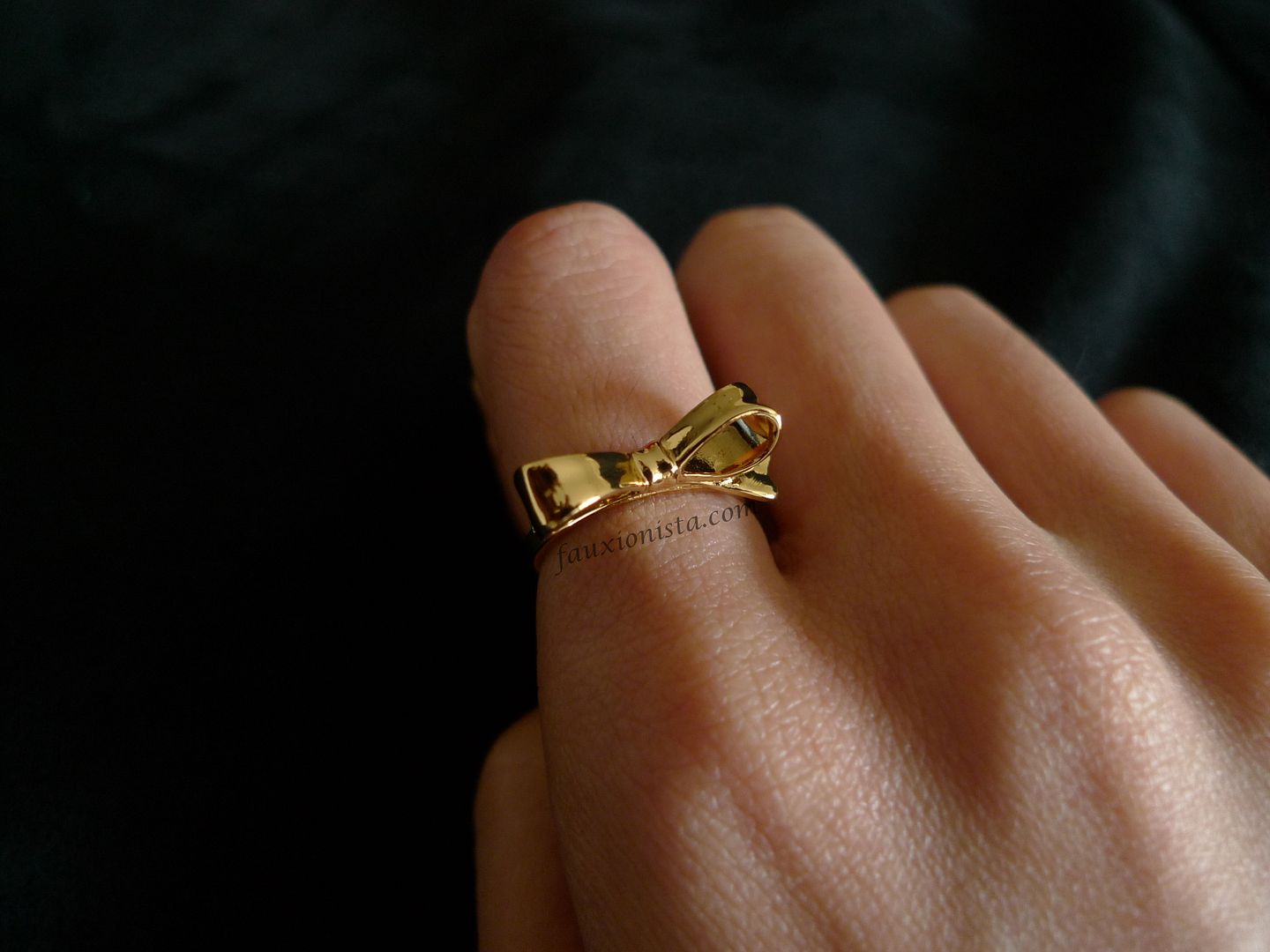 Kate Spade Love Notes Bow Ring $48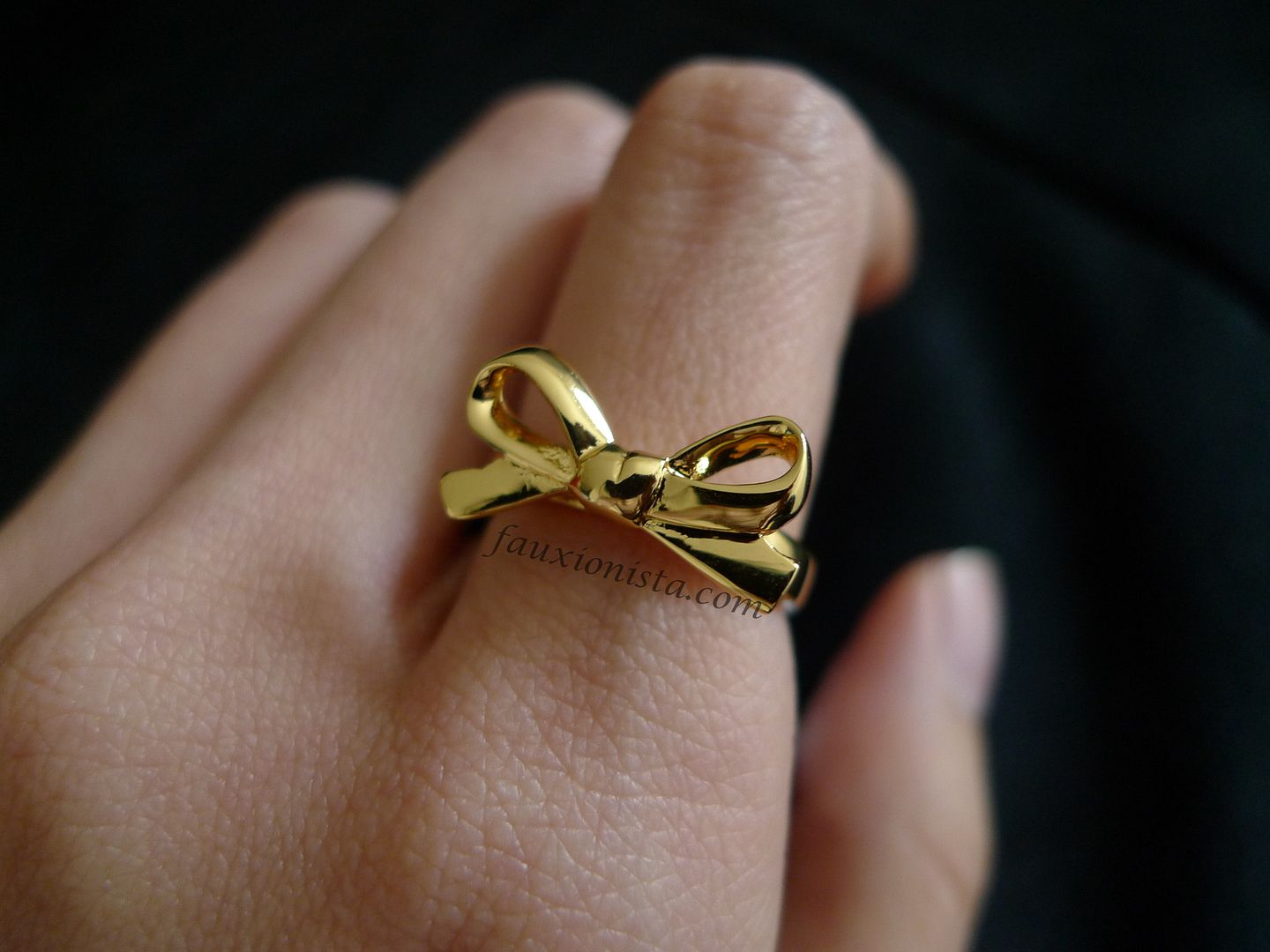 Kate Spade Skinny Mini Bow Ring $48
So, which did I end up with? Although I was leaning towards the Love Notes Bow Ring, I ended up keeping the Skinny Mini Bow Ring instead. It was a difficult decision for me on which to keep as both were pretty in their own right but in the end, the Skinny Mini won! While the the Love Notes Bow Ring was matchy-matchy with my gold bow earrings, G pointed out that it would more likely get caught in things as it had a higher setting than the Skinny Mini Bow Ring. Also the few people that I asked pointed out that they like the Skinny Mini Bow Ring better as the bow was more pronounced; all of which were good points that I ended up keeping the Skinny Mini Bow Ring!
I have to add that returning the Love Notes Bow Ring in the store was a breeze. The sales associate gave me a strip of receipt from the online order receipt and attached a slip that stated the item was received in the store. Apparently they ship orders back to the online warehouse (wherever that is) and returns are processed through them. I was told that it would take 3 to 5 days for the return to be processed. It's the fifth day today but I have yet to see a credit on my statement but I'll give it a week since Frackenstorm Sandy created delays in shipping.
In short, I'm pleased with my online purchase from Kate Spade and wouldn't hesitate to purchase from them again!
**Update: I received a credit back for the ring on my credit card statement today. So, just an extra day**