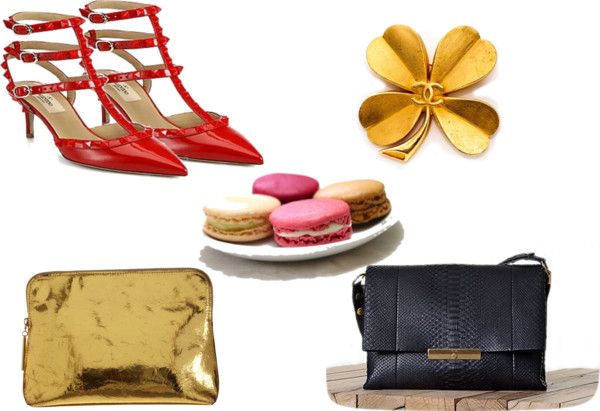 Valentino Punkouture studded patent pumps// vintage Chanel brooch// macarons// 3.1 Phillip Lim 31 Minute Cosmetic bag// Celine Blade in Python Black
Another birthday, another year older. While my birthday wishlist is purely fantasy with perhaps the exception of some yummy macarons, a girl can dream, right? 😉 I've bought myself a camera for this year's birthday so there wouldn't be any fashion splurge although it sure is mighty tempting!
I love my Valentino Noir Rockstud flats although I don't wear it as often as I'd like to for fear of scuffing it too much, yet I still pine for a pair of Rockstud in kitten heels. The limited edition red on red from last Fall got my heart skipping a beat, but these new Punkouture ones are a close substitute. The price tag however, makes it unobtainable (I'm a bag girl, not a shoe girl!). Perhaps a pair in nude/beige?
I adore my Chanel faux pearl brooch and have received many compliments on it that I'd like to obtain another, a vintage gold version to match my gold accessories. The one above is perfect since it's less conspicuous in comparison to the usual blatant interlocking CC logo.
I've written about the 3.1 Phillip Lim 31 Minute cosmetic bag here, so I shall not repeat myself. As for the macarons, need I say more? They're great treats, much like dark chocolate except a little less accessible in DC (there's not to say that there aren't any, just not as easily accessible).
Last but not least, be still my beating heart. That Celine Blade in Python for Fall/Winter 2013 has got me weak in my knees. It's no secret that I have a soft spot for exotics and my capsule collection of bags is still missing the perfect black bag. I recently sold my Mulberry Alexa as I wasn't too happy with the quality of the embossed snakeskin and there's a gaping hole to be filled. The Celine Blade in Python would be perfect for many reasons – it's black, it's exotic leather, and the adjustable strap to accomodate cross-body is perfection! Ah, if only I can find one for the price I'd be willing to pay…
In any case, I'm fortunate to be able to ring in my birthday on vacation and better yet be able to spend it with G! 🙂 Happy Hump Day!